Today marks the publication of James's latest book, Older.
He writes: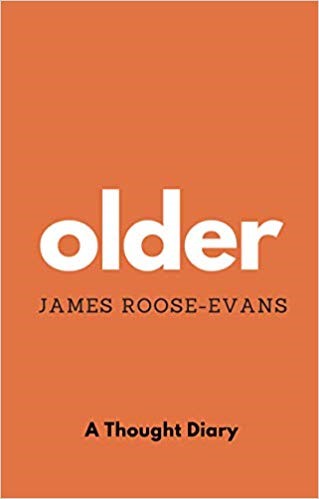 "The moment I became 90 it seemed especially important to record the year of my entry into the tenth decade. What excites me is that the journey continues right up to the very last moment, for, as T S Eliot wrote, 'Old men should be explorers still.' It is a stage of life during which much is shed, and much unlearned so that new insights can be explored. It is a time when a whole mosaic of memories reveals the blueprint of the person we were meant to be and have become. It is also a time of harvest, knowing that when our time comes to depart, it is with the realisation that we are finally coming into harbour after a long voyage."
In his ninety-first year, James Roose-Evans decided to do something wholly unconventional; compile a raw and honest diary with the intention of releasing it to the world.
Older: A Thought Diary is one of the few books on the market to encapsulate old age in such a frank manner, along with the challenges and gifts age brings, to help readers redefine how they view and approach the ageing process.
Synopsis:
This touching diary reveals a year in the life of James Roose-Evans – the author. Older is a vivid and illuminating portrait of growing old.
This 'thought diary' was written through James Roose-Evans's ninety-first year. The result is a cornucopia of delights that touches on everything from the profound to the minutiae of daily life.
Throughout Roose-Evans writes with wit, sensitivity and an eye for detail – and his reflections will teach us much about how we should approach the process of ageing.
The author comments "Sometimes people say to me 'Oh I'm old' and always I reply, 'No, you are older', which is a very different thing. The word 'old' with its final D is like a door slamming, whereas older suggest the possibility of further growth.
Tom Perrin, publisher of Zuleika Books writes:
"Older is a moving, touching and important book, and makes vital points about old age and living.'
Older: A Thought Diary is available from 2 October 2019: https://amzn.to/2RRosUJ